In the last week I have gained a crystal clear vision for my life. Unleashing Potential. That's it. Two words. It's taken me two years!
What's your vision? If you take the time and work the steps below, you will be unleashed to live out your full potential! It can't be microwaved. Even if it takes two years (I hope you find it faster than me!) it's well worth it.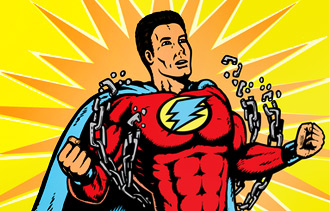 Two years ago at the Exponential Church Planting Conference I sat in a workshop led by Will Mancini. The title was Unlocking Your Motivational View of the World. I HIGHLY recommend listening to the full podcast. It's an hour well invested. Assuming, that is, that you want to unleash your full potential!
3 Vital Steps to Unleashing Your Full Potential
1. Submission to the Sovereign Goodness of God
God's thumbprint can be seen throughout our lives. But with the speed of life we often miss it.
This first step is something I learned as a student at Dallas Theological Seminary. (Mancini experienced and shares this from his time as a student at DTS) It's simple but powerful. This is the Life Map. Here is how it works.
Break your life into four creative life chapters. Think about the most natural chapter breaks in your life from birth until now. Write them out. This will be arbitrary.
Take each of your four life chapters through the following 5 grids. Your looking for patterns and the thumbprint of Gods grace…

Heritage – what's your family of origin?
Hard times – where have you experienced pain and brokenness?
High points – where have you experienced joy?
Holy moments – where have you sensed God speaking?
Heroes – who has mentored or influenced you most?

Share your life map in a small group setting. Have each person take 45 mins to share their story. Then respond with a time of praise to God for what He has done.
2. Motivational View of the World
Many Christians settle for a shallow, although good, motivation. For example, to glorify God. Or, make fully devoted followers of Jesus. While good, these are generic and not unique. Thus, they rarely motivate.
In this second step focus on YOUR UNIQUE motivational view of the world. What motivates you to do what you do?
Mancini calls this "the power of singularity." It will get clearer and clearer the more you experience and work on it. It's not something that can be attributed to every other person/Christian.
Here's how it works (via Mancini's workshop). "YOUR NAME exists to honor God and help others by  ____ing _____ ." Boil it down to two words.
Examples
Applying essence
Designing enjoyment
Restoring value
Encouraging dreams
Building teams
Clarifying Questions
What has been a deeply satisfying event/season/role but you got no attention or accolade on, no one knew this deeply motivated you?
What do you secretly believe you are great at but never told anyone or acted on?
My personal vision statement: Ed Choy exists to honor God and help others by UNLEASHING POTENTIAL! Those are my words. I can look back and see this woven throughout my life. You should see that too.
This unique motivation applies to everything. I am motivated in my marriage, parenting, coaching, blogging, and pastoral ministry to UNLEASH the POTENTIAL in all people!
3. Ideal Context/Setting
Once you have your two words ask this question. In what context can I UNLEASH my FULL POTENTIAL? Where will my motivational view of the world thrive?
large/small organization
team/solo
urban/rural
Question: What two words best describe your MOTIVATIONAL VIEW OF THE WORLD?