In August 2014 my wife and I left a steady and somewhat comfortable position to launch into the uncertain waters of church planting. Our former church financially supported us for four months, but we otherwise didn't know how we'd survive.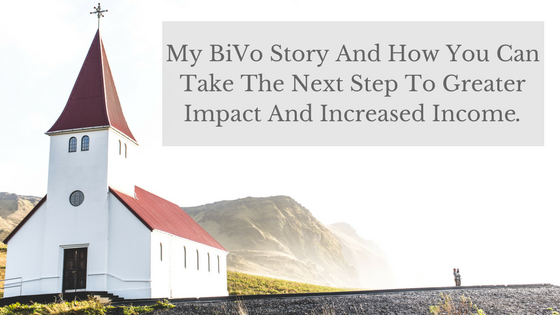 We joined a missions organization and started raising financial support in February 2015, which has been very hard, to say the least. Many of you know what I'm talking about! We've worked hard at it but only managed to raise 41% of our total monthly need.
So, going bi-vocational wasn't an option for me, it was the only option.
Are you a BiVo pastor or church planter?
Are you a full time vocational pastor or church planter who could use some extra income?
Stay with me. I promise to make it worth your time.
Whatever It Takes
I was willing to do whatever it took to fulfill God's calling to plant Restoration Church. In fact, my first job after leaving our secure church was at 1-800-GotJunk. Yes, I was the Junk Pastor! The pay was minimal and the work was hard and long.
Once I realized the junk job was, well, junk, I applied for a seasonal driving position at UPS. The pay was better but the hours were long and I was working six days a week. Two weeks before Christmas I was leaving my house at 7am, returning at 8, 9, or even 10pm! Our supplemental needs were met, and I learned a lot about the struggles that many people face working that kind of job. UPS offered me a full-time position at the end of the season, and while it was hard to decline a higher paying, full benefits, union job, I sensed God calling us to step out in greater faith.
Another job I took to help supplement our income while trying to raise support was installing doors and windows. The pay was decent and I learned a lot, but once again it was hard work, leaving little energy to do the things I felt God calling me to.
I thank God for providing for my family through those times. But in the end those jobs were really just work to survive.
Is There A Better Way?
Could there be a way to make the extra money needed to provide for my family AND make a greater impact in the lives of people far from God?
Let me take you back to 2011, when I met Dave Page. Dave was overseeing church planters through the EFCA in California and co-taught a church planting boot camp at Biola University. Dave had previously planted two churches that grew to over 1000 and in both cases started by doing weddings for unchurched couples. When he shared that in the class I was instantly hooked! "How do I get started?" was my only question.
Since I didn't know where or when we would be planting a new church I had to wait three years to start my own wedding business-ministry. I am so glad I did! In 2014 I started Wedding Pastor Ed (www.WeddingPastorEd.com) as a way to connect with couples that wouldn't otherwise walk into a church, and as a way to supplement my income.
In the last three years I've been doing approximately 30 weddings a year. Of those I end up doing premarital counseling with about 10 couples a year. The majority of those couples are not church-going folks, which I LOVE! I've been able to spend a lot of time with couples through the premarital process, planning their weddings, doing rehearsals, mingling during cocktail hours, and even meeting with them after their wedding day. We are now seeing some of those couples visit our church.
My wedding business has generated about $15k per year of extra income. However, this year, with the addition of two associates, and more premium packages, I will make closer to $20k! That's working just 2-8 hours a week!
Is BiVo For You?
Being a Bivocational pastor or church planter is not for everyone. Whether you're full time or BiVo, what matters is that you're free to fulfill God's calling. Could going BiVo help you do that? If yes, stay with me a few more minutes…
Let me ask two final questions…
How would your life be different if you could work 3-10 hours a week and make an extra $500-$2500 or more a month?

What would your life and ministry look like if you had couples that have been disconnected from church coming to you AND start visiting your church?!
Doing weddings provides $15-20k per year of extra income for me.
Imagine that being you…
Imagine what your life and ministry will be like after you know how to create a stream of couples coming to you, wanting to pay you for your experience and expertise as a pastor, specifically to do their wedding, and in many cases pre and post marital counseling.
Imagine what an extra $10-20k a year would do for you and your family!
If that's you, then simply CLICK THE LINK BELOW to get my FREE Report For BiVo Pastors And Church Planters, "How To Make An Extra $15k A Year Reaching Unchurched Couples In Your Community Doing Weddings."
*Note that the webinar registration page is NOT live yet… as soon as it goes live we will let you know.
Wedding Pastors Network
Last August my wife and I were on a Friday lunch date when I shared with her my desire to more with weddings. "I wish there was a way to do more with weddings, to help more pastors and church planters experience this." We committed it to prayer and had no idea what God was up to.
The answer to that prayer is the Wedding Pastors Network! Dave Page is the one who introduced me to the Wedding Pastor Business. He had a great vision but just didn't have the time and wherewithal to grow it.
Dave (the wedding guru himself) and I are joining forces along with Travis Sinks (pastor, church planter, and tech guru in S. Florida) to launch the all NEW Wedding Pastors Network!
The Network will launch June 2017 with a FREE LIVE WEBINAR. Here's a snapshot of the package we're offering…
Wedding Pastors Network Membership includes:
(1) Tools and Training
Six weeks of training modules

Intro (Getting licensed, setting up your business)

Getting Clients (marketing, referrals, and follow up)

The Wedding Inquiry Meeting

Designing The Ceremony

The Rehearsal & Ceremony

Pre and Post Marital Counseling & Coaching

Ceremony templates, email and client meeting scripts, & marketing materials.

Training from the most experienced and highly reviewed wedding officiants you'll ever meet. Dave and Ed have combined for more than 300 weddings. Plus access to pastors in the network who have done hundreds of weddings.
(2) Coaching
During the first six weeks of training we will coach pastors through the entire process, being available and accessible when they need it.

After the six weeks of training they will have access to a monthly mastermind call in which we will go through case studies, Q&A, helping solve challenges and unleash potential.
(3) BONUSES… that will be revealed in our LIVE FREE WEBINAR!
CLICK HERE To Get The Report And Stay Updated For The Webinar
QUESTION: What is the greatest challenge you face in fulfilling your calling as a Pastor or Church Planter, especially if you're BiVo?