Yesterday I preached, "Jesus, Broken And Poured Out For Us," from Mark 14:12-26 at Restoration Church. I hope it's a blessing to you, especially if you're struggling with challenges in your life and uncertain where Jesus is in the midst of it all. HERE is the audio.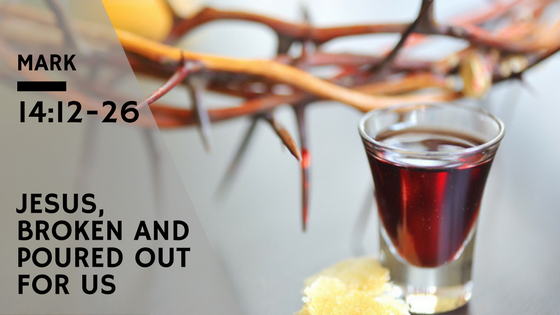 Unfortunately I forgot to set my phone to airplane mode and got a call 20 minutes in, which stopped the recording! Yikes! So I'm pasting my full sermon manuscript below.
I'd love to hear from you, comment below or send me a message.
---
Behavioral scientists have discovered that we usually see things that we are prepared to see. It's a network of nerve cells called the "Reticular Activating System," which is KINDA LIKE a BRAIN FILTER. There are millions of data points floating in our brain at any one point. This "BRAIN FILTER" signals what's IMPORTANT!
How does it know what's important? By what we FOCUS on most!
Buy a new car, focused on it, prepared to see it, see it everywhere.
The Hyundai Sonatas were always there, but as my BRAIN FILTER kicked in, my brain thinks Sonatas are important… now I see them everywhere!
I'm sure many, if not all of you can relate, right!
Our BRAIN FILTER can prepare us to see the worst or the best. If you're in a difficult relationship and every time you're about to see that person you think, "Oh man, this is going to be rough!" How does it usually go? Pretty rough, right!
Likewise, when we think the best about people…
like anticipating the presence of someone we admire or love…

when we're about to be with people who support us,

we usually see a lot of good things, almost automatically. Why? We FOCUSED on what was important, triggering our

BRAIN FILTER

that we expected to have a good experience.
Let's apply this to the way we think about God. The way we envision or picture Him deeply affects our experience with Him.
FOCUS, TELL OUR BRAIN that GOD is Good, Gracious, Merciful =

life-giving
FOCUS, TELL OUR BRAIN that GOD is Angry, Disappointed, Judging =

bad, probably avoid God, the church, the bible, and Christians!
Jesus was well aware of our BRAIN FILTER… He created it! So as He neared the end of His earthly life, He spent a LOT of time preparing His friends for what was about to happen. He was helping them FOCUS ON WHAT WAS REALLY IMPORTANT, rewiring their BRAIN FILTERS if you will.
The magnitude of what Jesus did for humanity is beyond our wildest imaginations. Knowing we would struggle to "get it," Jesus passed on a simple way for people to apply our BRAIN FILTER in relationship to how we think about God… specifically how we think about what Jesus did for US!
Now let's listen to God's Word as we join Jesus and His friends at the Passover meal… one in which He Challenged All The Norms of how they celebrated that 1500 year old tradition…
MARK 14:12-16… follow along with me…
12 On the first day of the Festival of Unleavened Bread, when it was customary to sacrifice the Passover lamb, Jesus' disciples asked him, "Where do you want us to go and make preparations for you to eat the Passover?"

13 So he sent two of his disciples, telling them, "Go into the city, and a man carrying a jar of water will meet you. Follow him. 14 Say to the owner of the house he enters, 'The Teacher asks: Where is my guest room, where I may eat the Passover with my disciples?' 15 He will show you a large room upstairs, furnished and ready. Make preparations for us there."
Jesus knew everything that was happening and about to happen.
16 The disciples left, went into the city and found things just as Jesus had told them. So they prepared the Passover.
MARK 14:17-20
17 When evening came, Jesus arrived with the Twelve. 18 While they were reclining at the table eating, he said, "Truly I tell you, one of you will betray me—one who is eating with me."

19 They were saddened, and one by one they said to him, "Surely you don't mean me?"

20 "It is one of the Twelve," he replied, "one who dips bread into the bowl with me. 21 The Son of Man will go just as it is written about him. But woe to that man who betrays the Son of Man! It would be better for him if he had not been born."
Jesus betrayal was part of God's purpose, as predicted in the OT. But notice that although God was and is always in control, man is also always accountable for his actions.
God is bringing RESTORATION, He is the one doing the real work here at RC! But Pastor Rod, Pastor B, and I will be held accountable for our leadership.
Whatever part we play, whatever God is calling us to, He will do it, He will be faithful, but we will be held accountable to Him for our part.
Now notice how Jesus refocuses their BRAIN FILTERS by emphasizing that He was Broken and Poured Out For Them
…
22 While they were eating, Jesus took bread, and when he had given thanks, he broke it and gave it to his disciples, saying, "Take it; this is my body." ~MARK 14:22
The bread represented Jesus' body, which was about to be "broken" on an old wooden cross! "Broken in the sense that He was about to take the sins of the entire world on His body!
Isa 53:4-6
Surely he took up our pain and bore our suffering,

yet we considered him punished by God,

stricken by him, and afflicted.

5 But he was pierced for our transgressions,

he was crushed for our iniquities;

the punishment that brought us peace was on him,

and by his wounds we are healed.

6 We all, like sheep, have gone astray,

each of us has turned to our own way;

and the Lord has laid on him

the iniquity of us all.
1 Pet 2:24
"He himself bore our sins" in his body on the cross, so that we might die to sins and live for righteousness; "by his wounds you have been healed (RESTORED)."
The significance of Jesus' body being "broken" is that He could then be shared! He literally shared the bread in the meal, but more importantly He was sharing Himself! All who put their faith/trust in Him can have immediate access to His presence… ALL THE TIME!
Not only was Jesus BROKEN, but notice, He was also POURED OUT for US…
MARK 14:23-25
23 Then he took a cup, and when he had given thanks, he gave it to them, and they all drank from it.
They drank from a common cup, further symbolising Jesus' desire to share Himself with His followers.
24 "This is my blood of the covenant, which is poured out for many," he said to them. 25 "Truly I tell you, I will not drink again from the fruit of the vine until that day when I drink it new in the kingdom of God."
"blood of the covenant"
This covenant does not refer to an agreement between two equals. God has no equal! This refers to an arrangement established by one party, in this case God. The other party (humanity), cannot alter it; we can only accept or reject it.
This New Covenant is God's new arrangement in dealing with people, based on Jesus' death. God promised this New Covenant through the OT Prophet Jeremiah. And while the physical blessings for Israel are yet to be fulfilled when Jesus comes back, the spiritual blessings are extended to us (the church, Jews and Gentiles together)… to all who put their trust in Jesus.
"many"
For even the Son of Man did not come to be served, but to serve, and to give his life as a ransom for many
"many" – this is a common Jewish way of saying "all". Lit.

all who are many

.
This is one of the clearest moments in which Jesus brings

everyone

together, Jew and Gentile, near and far. There is ONE LOAF given (one broken body) and ONE CUP poured (one person's blood)… "

for many =

for ALL!"
It was the death of Jesus that founded and now sustains the new community… the church!
"I will not drink again from the fruit of the vine until that day when I drink it new in the Kingdom of God."
The Passover meal includes 4 cups of wine, representing the four-fold promise of redemption God made to His people in Exodus 6:
'I will bring you out . . .

I will rid you of their bondage . . .

I will redeem you . . .

I will TAKE you for my people and I will be your God'
Jesus said that He will drink that 4th cup with US… in "that day… when we drink it new together in the Kingdom of God." Jesus was FOCUSING their BRAIN FILTERS with something new here, something of the utmost importance! = Jesus will RESTORE EVERYTHING when He comes again!
EVERY time we eat together, every time we gather together, we have the opportunity to remind each other of what is truly important… JESUS was Broken & Poured Out For US, giving us His presence for today and sure hope for the future… He is coming again!
It's incredible to see how this part of the story ends…
26 When they had sung a hymn, they went out to the Mount of Olives. ~MARK 14:26
Imagine being one of those disciples… the uncertainty, the doubt, the struggle!
We don't know for sure, but Psalm 118 was likely on Jesus' mind that night. I'm going to read portions of it, but I encourage you to read it all on your own. Let's marinate in God's promises for a few minutes before we close…
Give thanks to the Lord, for he is good;
   his love endures forever.
5 When hard pressed, I cried to the Lord;
   he brought me into a spacious place.
6 The Lord is with me; I will not be afraid.
   What can mere mortals do to me?
7 The Lord is with me; he is my helper.
   I look in triumph on my enemies.
8 It is better to take refuge in the Lord
   than to trust in humans.
9 It is better to take refuge in the Lord
   than to trust in princes.
13 I was pushed back and about to fall,
   but the Lord helped me.
14 The Lord is my strength and my defense;
   he has become my salvation.
17 I will not die but live,
   and will proclaim what the Lord has done.
21 I will give you thanks, for you answered me;
   you have become my salvation.
22 The stone the builders rejected
   has become the cornerstone;
23 the Lord has done this,
   and it is marvelous in our eyes.
24 The Lord has done it this very day;
   let us rejoice today and be glad.
29 Give thanks to the Lord, for he is good;
   his love endures forever.
APPLICATION
Jesus has given us amazing FILTERS FOR OUR BRAINS. As we FOCUS them on what's IMPORTANT, we begin to respond to life much differently.
Like seeing Hyundai Sonatas everywhere, when our BRAIN FILTERS work properly we begin to see Jesus everywhere!  
YBH? (Yes, But How?)
Think about the challenge you're facing right now? 3 main categories I think of…
PHYSICAL

: pain, health, weight, insecurity
RELATIONSHIPS

: family, friend, neighbors, work, team, classmate

broken, disappointed, unmet expectations, and on and on and on!
WORK

: not enough, too much, uncertain, stress
Here's the YBH…  when you feel the physical, relational, or work related pain, STOP & REFOCUS your BRAIN FILTER by… REMEMBERING JESUS! "Do this in remembrance of Me!"
PHYSICAL

pain/health/insecurity = "

Ok Jesus, the pain is real, but I remember, You were broken and poured out for US

!"
RELATIONSHIP

: Harsh word spoken/unmet expectation = "

Ok Jesus, this hurts, but I remember You were broken and poured out for US

!"
WORK

: Pressure = "

Ok Jesus, I don't know how to bear it, but I remember that You were broken and poured out for US

!"
IMAGINE THIS… no longer seeing life as full of brokenness and challenges (although it is), but seeing Jesus everywhere, in every circumstance, in all our pain, in every relationship, and as a vital part of our work!
IMAGINE how different our day to day experience would be THIS week, if we lived in light of Jesus being broken and poured out for us!