Christmas can and should be a time of great JOY! The first Christmas started with a message that included GOOD NEWS… of GREAT JOY… for ALL PEOPLE! There's no three easy steps to live a life of joy. But there is a secret…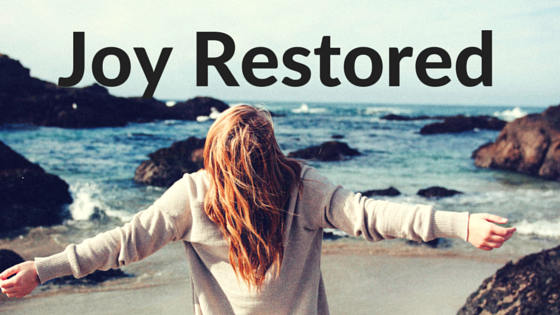 Yesterday I preached, "Jesus is Restoring Joy." I'll give you a hint… Jesus is the secret to experiencing JOY this Christmas. Have a listen, download the Way of Life Plan, and take steps to enjoy more JOY this Christmas! Below are some further encouragements from the birth announcement of Jesus.
Luke 2:8-11, Good New of GREAT Joy!
And there were shepherds living out in the fields nearby, keeping watch over their flocks at night. 9 An angel of the Lord appeared to them, and the glory of the Lord shone around them, and they were terrified. 10 But the angel said to them, "Do not be afraid. I bring you good news that will cause great joy for all the people. 11 Today in the town of David a Savior has been born to you; he is the Messiah, the Lord."
JOY for SHEPHERDS… really???
Shepherds were socially looked down upon in Jesus' day.

Their work made them ceremonially unclean, and they had a reputation for being untrustworthy.

In fact, their testimony was not allowed in a court of law! No rights, treated as less than people! God sent GOOD NEWS first to the lowly and humble. Jesus knows how to restore JOY to the lowly and humble! This truly is GOOD NEWS!
Let's unpack the words of the angel…
Do not be afraid

– The angel reassured the frightened shepherds. His appearing signaled an occasion for JOY, not FEAR! Same for us!
Good News

– The Advent or Christmas Season is all about Good News! We've got GOOD NEWS ya'll! The cultural and socioeconomic situation the people in Israel faced needed GOOD NEWS… And if there ever was a time when

our world

needed GOOD NEWS, it's now!
Great (MEGA) JOY

– Jesus was, and is, and will RESTORE JOY! Jesus brings people who are separated from God, broken because of SIN, and makes them His beloved sons and daughters! This is GOOD NEWS that ALWAYS results in GREAT JOY!
For ALL the people

– First brought to the lowly… but for all, the Roman soldiers and top ranking officials, the high up and powerful (Pharisees, High Priest, Lawyers), the Jew AND the Gentile!
Gal 3:26, 28 For you are all children of God through faith in Christ Jesus… 28 There is no longer Jew or Gentile, slave or free, male and female. For you are all ONE in Christ Jesus.
Today

– This event happened that day, at a specific time in history. This is not a fable but is rooted in time.
But when the time had fully come, God sent his Son, born of a woman... (Galatians 4:4)
Town of David

– In order to fulfill the promise of salvation, Jesus had to be a direct descendant of King David. The Advent story is Good News for many reasons, here is a significant and encouraging reason… God promised to send a

Savior/Messiah! Since He promised, and He is ALWAYS faithful, Jesus HAD to be born. 
Savior

– The name "Jesus" means Savior, or Deliverer. He came to suffer and die to rescue/deliver us from the consequence… death… of our sins.
Born to you

– Christmas must always be personal. Specifically, the angel announced that the birth of Jesus was for them personally. Jesus was born "to you" too!
Messiah

– Christ; Anointed One. The long-awaited one sent from God.
Lord

– King of Kings. "The government will rest on His shoulders and He will reign in justice and mercy forever and ever." Jesus is God and thus demands our total submission and full allegiance.
The GOOD NEWS is that in the town of Bethlehem… according to ancient prophecy; on a certain day in history according to God's eternal plan, a SAVIOR was born, Who was Jesus, the CHRIST, the LORD!
Because of this GOOD NEWS you and I can have JOY that is inexpressible. God has identified Himself with you and I, when we were unable to identify with Him.
You can have JOY no matter your circumstances, because the baby born in a feeding trough who came to set you free!
You can have JOY, my friends because of Jesus… and it's JOY that no one can take away! Jesus is MY JOY! Say it with me, Jesus is MY JOY! Say it often this week, when you feel stressed, frustrated, let down… say JESUS, YOU ARE MY JOY!!!!
Rejoice with me as I read some of the words from the great Christmas hymn, O Come, O Come Emmanuel…
"O come, O come, Emmanuel,

And ransom captive Israel,

That mourns in lonely exile here,

Until the Son of God appear.

Rejoice! Rejoice! Emmanuel

Shall come to thee, O Israel!

O come, Desire of nations,

Bind all peoples in one heart and mind;

Bid envy, strife, and quarrels cease;

Fill the whole world with heaven's peace.

Rejoice! Rejoice! Emmanuel

(Has) come to thee, O Israel!"
CONCLUSION
Life can be very hard. But God is always good. If your JOY is Jesus then NOTHING can take it away. Say it with me, "Jesus, YOU ARE MY JOY!"