Life is full of struggles, isn't it! It often feels like a wrestling match we just can't win. But the Apostle Paul wrote to a church full of struggles 2000 years ago with answers. The answers given to the church at Ephesus are just as relevant today as they were then.
The bottom line is that the problems we face, the struggles we experience, are not primarily problems with humanity. They are what the Apostle Paul calls "rulers, authorities, powers of this dark world and the spiritual forces of evil in the heavenly realms." This was the topic of my sermon yesterday from Ephesians 6:10-13. You can find part one of the video HERE. Part two is HERE.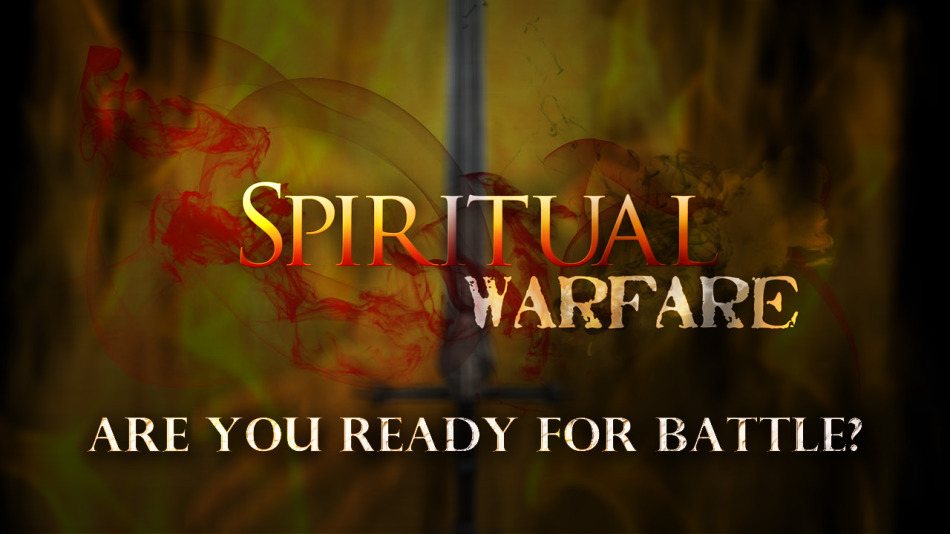 Many reject a supernatural view of life. They refuse to believe in unseen powers. They reject any kind of spiritual kingdom, saying there is no God or devil. Maybe you know someone like this??!!
Others believe only in a kingdom of good. They believe in God and maybe angels, but refuse to accept the existence of the devil and/or hell.
I urge you to consider taking God at His word. The answers the Apostle Paul puts forth are the only explanations that come to grips with the problems and struggles of life.
1. Remember WHERE your strength for Spiritual Warfare comes from (v. 10)
Finally, be strong in the Lord and in his mighty power. (Ephesians 6:10 NIV)
You have God's strength in temptations, troubles, in sickness, in weakness and waiting, in service, in spiritual warfare, and in everything!
2. Remember WHY you're fighting Spiritual Warfare (v. 11)
Put on the full armor of God, so that you can take your stand against the devil's schemes. (Ephesians 6:11 NIV)
You're fighting spiritual warfare to stand. Standing means living successfully, the way God made you to live.
3. Remember WHO your enemy in Spiritual Warfare really is (v. 12)
For our struggle is not against flesh and blood, but against the rulers, against the authorities, against the powers of this dark world and against the spiritual forces of evil in the heavenly realms. (Ephesians 6:12 NIV)
Spiritual Warfare is a "struggle". The word Paul uses in Ephesian 6:12 refers to wrestling. Not WWE wrestling. He's talking about the kind that you see in a high school or college gym. The kind where two wrestlers are entwined with one another trying pin the other to the ground. It's the kind of battle where you have extremely close contact with one another.
So who's our enemy? Who are we "wrestling" in Spiritual Warfare?
Not people! – "not flesh and blood"
Paul had just finished talking about husbands/wives, children/parents, employers/employees. It's easy for each of these categories of people to fight with one another. Can you relate???
We may get upset w/one another about something, but that does not make us enemies. We are family.
Enemies deal with conflict either by avoiding one another or attempting to destroy one another. But those who love one another deal with conflict by finding a way of resolving the situation. They seek forgiveness, remember all they have in common, and love each other with the same kind of love that Jesus loves us.
Wrestling alongside people requires getting close and personal. That's tough. Maybe you've been in a "wrestling match" before, and you got hurt. Maybe your teammate let you down. Maybe you're scared that if you get up too close, then you'll find out that your teammate smells – your teammate is fallible. He's just "flesh and blood."
If you get up close on me, you're going to find out my areas of weakness. At that point, you have a decision to make. You can either judge me for my weakness, and walk away, or you can decide that you're going to help me in the areas where I am weak.
Our TRUE enemy…
Spiritual forces – "rulers, authorities, powers of this dark world… in the heavenly realms"
They have power and authority; don't treat them lightly
Though they have some authority, they don't have all authority.  Jesus said, "All authority in heaven and on earth has been given to Me." Since Jesus has all authority, He has the right to command us what to do, and we have the responsibility to obey. His command to us is this: Therefore go and make disciples of all nations, baptizing them in the name of the Father and of the Son and of the Holy Spirit, and teaching them to obey everything I have commanded you. And surely I am with you always, to the very end of the age." (Mat 28:18-20 NIV)
Do you know what He is telling us to do? He is telling us to invade enemy territory. That's dangerous!
Our real enemy is the devil and he doesn't like us!
Be self-controlled and alert. Your enemy the devil prowls around like a roaring lion looking for someone to devour. (1 Peter 5:8 NIV)
4. Remember HOW you win Spiritual Warfare (v. 13)
Therefore put on the full armor of God, so that when the day of evil comes, you may be able to stand your ground, and after you have done everything, to stand. (Ephesians 6:13)
We win our battle in Spiritual Warfare by putting on the FULL armor of God! You wouldn't walk out of your house naked, right?! But how often do we walk out into the world without our spiritual armor on??!!
Next week I will begin working through each piece of the armor.
APPLICATION
Review these notes. If you're here, you've already take step one!
Read Ephesians 6:10-13 each day this week. Consider reading it before or after each meal.
Pray, asking God to speak to you about what area He wants to grow in your life. Ask Him for courage to act. Then do what He tells you to do!
QUESTION: What do you think the hardest aspect of spiritual warfare is? Why do you think it's so hard?