Reading the Bible on a regular basis has been a habit of mine for 18 years. Through the years I've learned a few things that help me read the Bible with greater purpose. These principles can make reading the bible a life changing experience!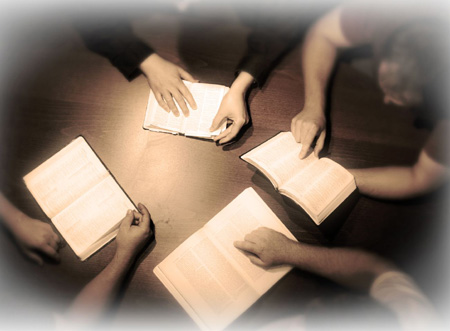 Just Finished the New Testament in 46 Days
On Wednesday March 5 my wife, 10 year old son Elijah and I started the #LentChallenge. Many from my church also followed the plan. It was not easy to read through the entire New Testament in 46 days, but we did it! 
Much thanks to Margaret Feinberg for creating the #LentChallenge. Through the challenge she shared great resources and today she wrote a great summary HERE.
Several Principles Can Change Our Lives as we Read the Bible
1. See the Bible as the Word of God
The Bible is not just a spiritual book. It's not just information or history. It's the Word of God.
Jesus answered, "It is written: 'Man shall not live on bread alone, but on every word that comes from the mouth of God.'" (Matt 4:4)
"Blessed rather are those who hear the word of God and obey it." (Luke 11:28)
So the word of God spread. The number of disciples in Jerusalem increased rapidly, and a large number of priests became obedient to the faith. (Acts 6:7)
For the word of God is alive and active. Sharper than any double-edged sword, it penetrates even to dividing soul and spirit, joints and marrow; it judges the thoughts and attitudes of the heart. (Hebrews 4:12)
The Bible is LIVING and ACTIVE! Therefore, as you read PRAY UP, IN, OUT as you read:
UP: ask God to speak to you as your read.
IN: ask God to help you understand what you're reading as you read.
OUT: ask God to help you apply what you read.
2. Read the Bible for Application

The heart of the mission of the church is obeying the words of Jesus:
Therefore go and make disciples of all nations, baptizing them in the name of the Father and of the Son and of the Holy Spirit, 20 and teaching them to obey everything I have commanded you. And surely I am with you always, to the very end of the age." (Matthew 28:19-20)

Jesus emphasized obeying throughout His preaching and teaching:

"Therefore everyone who hears these words of mine and puts them into practice is like a wise man who built his house on the rock. 25 The rain came down, the streams rose, and the winds blew and beat against that house; yet it did not fall, because it had its foundation on the rock. 26 But everyone who hears these words of mine and does not put them into practice is like a foolish man who built his house on sand. 27 The rain came down, the streams rose, and the winds blew and beat against that house, and it fell with a great crash." (Matthew 7:24-27)
James emphasizes the importance of hearing and doing:

Do not merely listen to the word, and so deceive yourselves. Do what it says. 23 Anyone who listens to the word but does not do what it says is like someone who looks at his face in a mirror 24 and, after looking at himself, goes away and immediately forgets what he looks like. 25 But whoever looks intently into the perfect law that gives freedom, and continues in it—not forgetting what they have heard, but doing it—they will be blessed in what they do. (James 1:22-25)

3. Life Change is a team sport
In Ephesians 5 Paul teaches the need we have to grow and change in community (the church)
First,
Be very careful, then, how you live—not as unwise but as wise, 16 making the most of every opportunity, because the days are evil. 17 Therefore do not be foolish, but understand what the Lord's will is. (Ephesians 5:15-17)
Then he teaches us to be controlled by the Holy Spirit,

Do not get drunk on wine, which leads to debauchery. Instead, be filled with the Spirit, 19 speaking to one another with psalms, hymns, and songs from the Spirit. Sing and make music from your heart to the Lord, 20 always giving thanks to God the Father for everything, in the name of our Lord Jesus Christ. (Ephesians 5:18-20)

Finally, he teaches us to do all this together, submitting to one another,
Submit to one another out of reverence for Christ. (Ephesians 5:21)

We're really submitting to God when we submit to each other.

Reading the Bible CAN Change Your Life!
1. Read the Bible it as the Word of God. Go into it expecting God to speak to you
2. When you read the Bible look for something to obey. If there is, ask God for the grace and strength to do it.
3. Read the Bible with a partner.
Commit to some kind of reading plan with someone if possible. I highly recommend @youversion. You can read a Proverb a day, topical devotion, partial bible plan, or for those with big ambitions you can the whole bible in a year.
If you don't have a partner, share your commitment with someone who will ask you about it. Be intentional about sharing what you're reading, learning, and how you're applying the Bible to your life.
To dive deeper I recommend reading How to Read the Bible for All it's Worth by Fee and Stuart.
QUESTION: HOW has reading the Bible changed your life?